Upcycling used paper | Marcus x Print N Matters
Print N Matters was born out of a desire to put off-cuts to good use. Marcus refined his methods for making handcrafted paper after experimenting with many batches of paper off-cuts, and is eager to share with you what he has learnt.

Go on a journey of customising your very own paper by hand through the use of a mould and deckle. Get fancy; lace your handcrafted paper with colour, decorative elements, and a trace of your personality. Your possibilities are endless!
6 video chapters

1 Home-kit delivered to you

An afternoon well spent
Lifetime access to online workshop
Workshops are pre-recorded, so you can watch them from any where, any time, and on any device, We recommend screens of 13 inches or larger for best viewing experience.
1 x Home-kit (including delivery)
We will deliver the Home-kit to you within a few days after you make your purchase. If you require more than 1 Home-kit, chat with us using the icon at the bottom right hand corner.
What will you make?
Floral handcrafted paper


Decorate your own paper by using colourful petals.
Coloured handcrafted paper
The colour of your handcrafted paper takes after the materials you use to make your paper pulp. Mix and match to get the hues you desire.
Freestyle handcrafted paper
Think of how you might want to use your handcrafted paper - Calligraphy, illustrations, or scribbling your thoughts to your loved ones. The possibilities are endless!
What materials will Lokal deliver to you?
We will deliver to you everything you need to participate in Marcus' Workshop and to create your one-of-a-kind upcycled paper.

Included
1) Mould & Deckle
2) Cloth
3) Garnish/ decorations (random selection)
4) Other accessories

Not included
1) Kitchen blender (please use your own!)
2) Used paper (just grab whatever you can find in your house)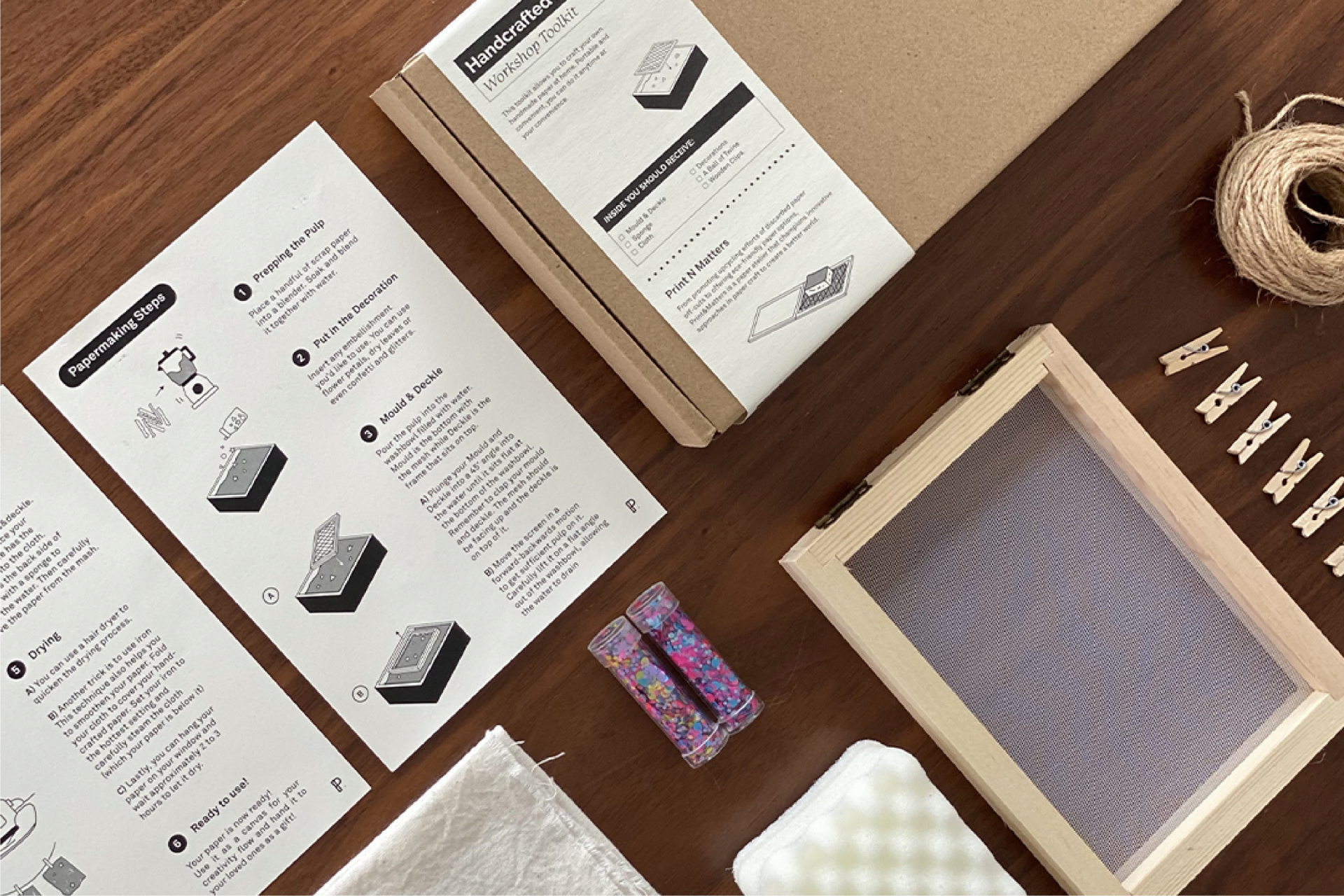 Eager to learn how to put your used paper to creative reuse? Purchase Marcus' Workshop & Home-kit now!
Meet YOUR TRAINER
Marcus x Print N Matters
Marcus, the founder of Print N Matters, is a designer and paper artisan. He takes paper off-cuts that would otherwise have been discarded, and upcycle them into eco-friendly paper accessories and stationery suitable for everyday use.
Through his Workshops he hopes to inspire others to do their part in creating a more sustainable future while having fun as they go about handcrafting paper.
Created with